Google Discovery Ads: A new post-search query PPC world
Google launches Discovery Ads globally.
About a year ago Google held its annual Google Marketing Live conference where they introduced a set of tools signaling the end of the search query:
Gallery Ads for Search Campaigns
Discovery Ads for YouTube, Search and Gmail
After a year of testing, Gallery Ads did not make the cut. But Discovery Ads were officially rolled out to all advertisers last week.
In a post on the official Google Ads blog, Google's Vice President of Ads & Platforms Jerry Discher writes:
"For the first time, you can reach up to 2.9 billion people as they explore their interests and look for inspiration across multiple Google surfaces—all with a single, easy-to-use campaign."
With Discovery Ads, Google has made it possible to reach nearly 3 billion people around the world without ever relying on a search query inputed by the user.
Instead, Google will be taking a page out of Facebook's playbook and rely on audience insights.
Where can Discovery Ads appear?
Discovery Ads can be shown across three Google properties, each with their own reach and specifics.
YouTube: Ads will appear on the Home and Watch Next feeds in YouTube, where over 90% of users say they discover new brands or products.
Discover: It's unclear how much the discover feed in the Google Seaerch app has caught on. But according to Google, hundreds of millions consumers can be reached in the feed as they look for inspiration for their ideas and interests.
Gmail: Anyone using Gmail has probably come across the promotions social tab in their inbox. How many people actually look there is unclear. But now advertisers across the globe can reach potential shoppers with deals while they are checking their email.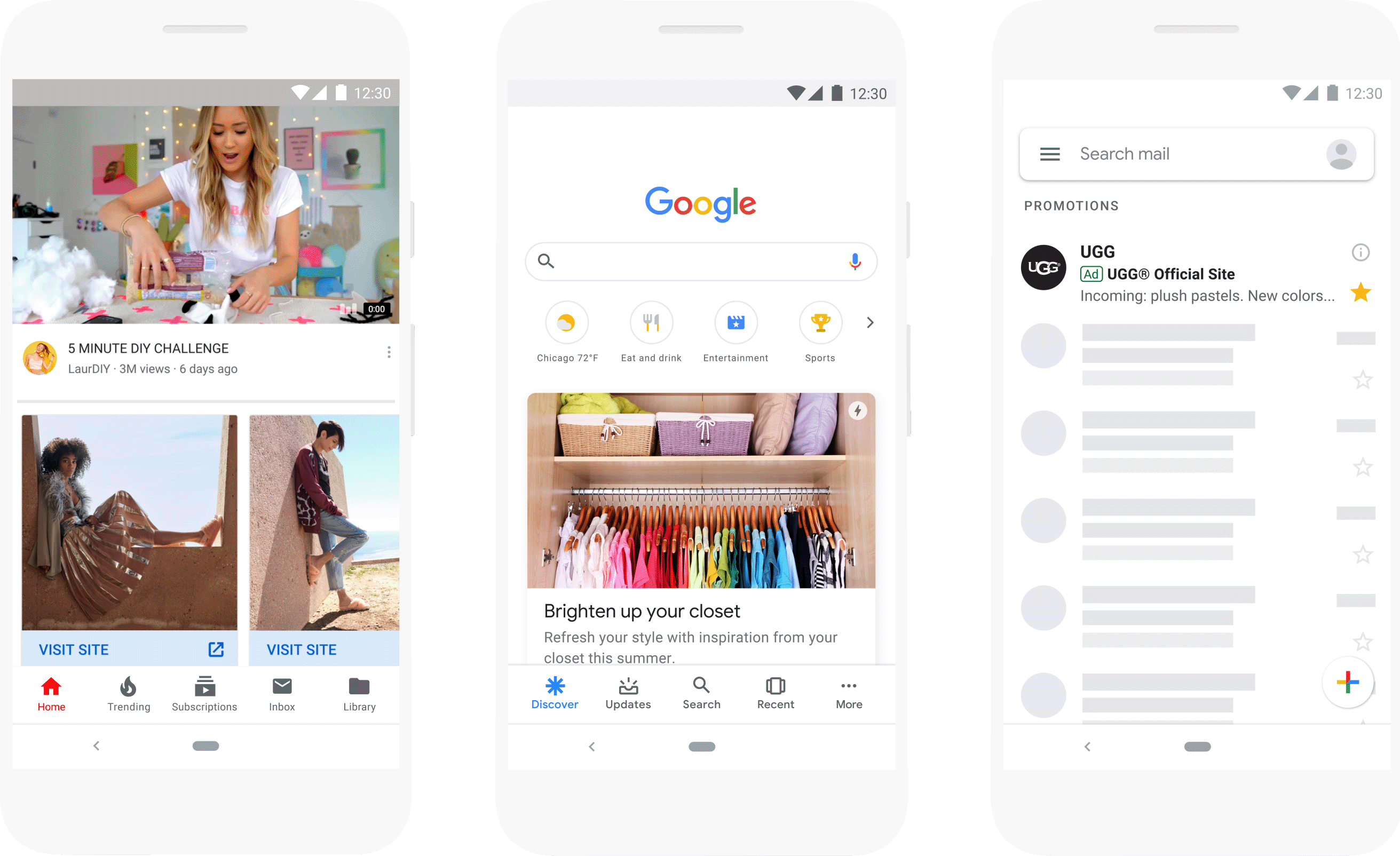 Source: Google Ads Blog
Can Google challenge Facebook?
As mentioned earlier, Discovery Ads follow Facebook's example of focusing heavily on visuals and relying on audience data rather than search intent to connect with potential customers.
At last year's marketing live conference, Google said that the Discover Feed of its Search App pulled in about 800,000 users per month. When combined with YouTube and Gmail, Google says the combined audience for Discover Ads stands at about 2.9 billion.
That puts the audience that Google can muster with Discover ads at about roughly even with Facebook's 2.99 billion users across Facebook and Instagram.
Google says that Discovery Ads have performed well so far. Their focus is further down the funnel with up to 48% lower cost-per-action compared to social ads. The ads that were using high-quality images have performed best.
"Discovery campaigns aren't just another effort by Google to move beyond search intent and deliver audience connections throughout the funnel, they give Google an avenue into working with social budgets and teams. Which team is ultimately responsible for Discovery campaigns will vary, but in many cases agencies and companies will have search, display and now social teams with a hand in Google Ads campaigns," SearchEngineLand wrote in a recent post on the subject.
When to use Discovery Ads?
Google mentions a few cases where Discovery campaigns may be a good choice. This includes:
1. Driving conversions with media at scale: For example, you can use Discovery ads to drive sales, newsletter signups, or more website visits.
2. Reaching new customers with media: For example, you can share visually rich, inspiring brand creative across feeds on Google properties and drive interest from potential customers when they're open to trying new brands.
3. Reconnecting with your most valuable customers: For example, consumers may return over time on Google feeds, and Discovery campaigns will give you a chance to reconnect with those customers who already know your brand.
How to set up Discovery Ads
Discovery ads are set up in Discovery campaigns, with two ad formats to choose from:
Discovery Carousel Ads: These include multiple images
Discovery Ads: the standard format is with a single image.
To upload image assets, Google gives you the ability to scan your website for images that meet the size requirements, which can be a useful quick way to get images in the database.
Otherwise there is an option to upload an image, or use stock images from a Shutterstock library.
Just like with responsive search ads (RSAs), Discovery ads serve different combinations of headlines and descriptions automatically, with the ability to enter up to five headlines and five descriptions.
Google also provides a weekly impression estimate based on the location you are targeting. Call-to-actions include "Apply Now", "Contact Us", "Download", "Visite Site" and "Shop Now".
Most importantly, Google Discovery Campaigns can target demographic groups, such as age, gender, household income and more.
Only smart bidding is available for Discovery Campaigns, as this type of campaign falls under Google's automated universal campaign type. Google recommends an average daily budget at least 10 times the value of your taget cost-per-action (CPA) bid and wait for at least 40 conversions before optimizing your campaign and making changes.
More Resources
It will be interesting to see how much of a dent Discovery Ads can make into Facebook's domination of audience-based online advertising. To get started with Discovery Ads, we've gathered a few extra resources you might find helpful.
Try Aori Growth
Using Google Ads for your advertising? Contact us to see if you qualify for our new Aori Growth Program and get all of our PPC tools for absolutely free. A value of $360 per month.